Many of our wonderful customers are Custom Boutique Designers in the
Ebay
world so we find it only fitting to report on their latest events. Those of you who aren't familiar with this world, if you are a true fabric addict, you will find yourself hooked the moment you log into Ebay, type the words
"custom boutique"
in the little search box and hit SEARCH. Trust me. You will.
Now, onto the latest in news of our fabric addiction becoming beautiful works of wearable art!

So have you seen the huge Sis Boom Launch on
Ebay
with special guest
Jennifer Paganelli
? What a great big launch that was! And I hear the girls of Adagio Bleu Studios are set for a part 2 on
Etsy
! Whoa!
Jennifer Paganelli, for those of you who don't know, is the designer behind the Sis Boom, Girlfriends and other beautiful fabric lines sold through Free Spirit. Jennifer created a beautiful dress out of her fabrics to be auctioned off just for the launch! Here's a peek:

We hear Jennifer is just sweet as pie and can't wait to hopefully meet up with her at Fall Market this year! She auctioned of this dress during the launch and all proceeds of the auction are being donated to a worthy cause!
For those of you who missed out on the big Ebay launch, there is still time to catch some auctions that haven't ended. There were sooo many and it was an amazing turn out! You can view them by visiting through this link here:
And we must show you one of the listings still up for grabs because it is a creation by one of our in house fabric addicts! Ayme of uniquefavors couldn't resist putting our Sis Boom fabrics to good use. Ok, we all can't resist most days but she is our resident Custom Boutique girl who keeps us up on the latest for the little ones so we have to share a peek at her set that is still available: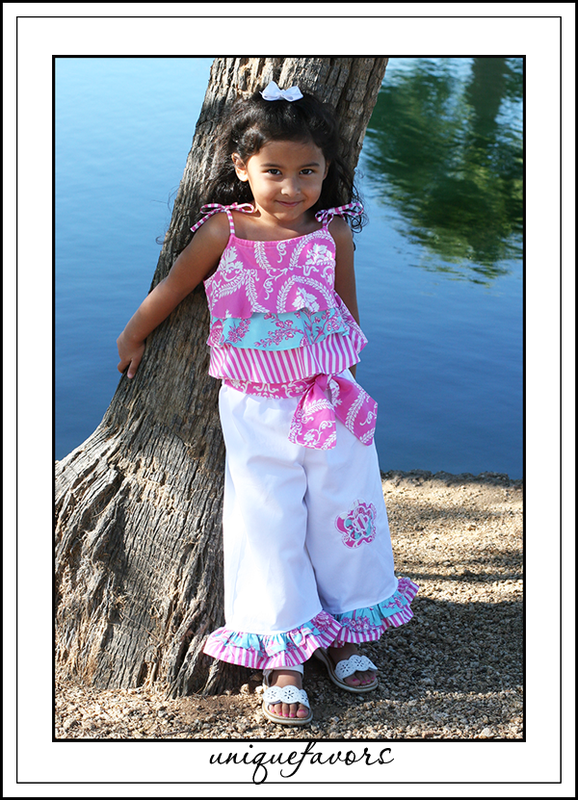 You can visit her auction just by clicking on the photo. Ayme has also taught us so much about this blogging thing. hehehe. We even know how to link now!
So, if you missed out on a great launch on Ebay, head over to Etsy and search for their items. The search terms are the same as Ebay, just type in ABSD Sis Boom in that little search box.
Stop back soon! We have so much more news to share with you! And we are working on some free instruction posts to be up very soon. Thanks for being addicted with us!